Facilities Engineering Services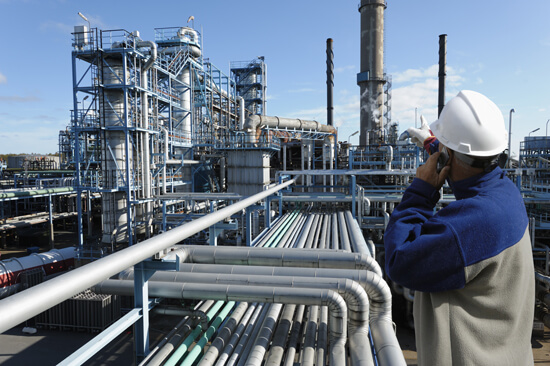 IPS offers field development planning support to our clients that include the evaluation of geophysical, geological, petrophysical data as well as the design of an optimum field development plan from feed to export. IPS develop a reliable method for developing, producing, and maintaining hydrocarbon resource up to and including surface design.
In designing each plan, careful economic planning and feasibility studies are undertaken to put in place where utilization of resources is optimized and in line with budget constraints.
Impetus Energy, an IPS subsidiary specializing in subsea facilities and pipeline engineering expertise, has considerably strengthened our field development planning services, allowing us to provide a completely integrated reservoir to market field development planning solution.
Feasibility Studies & Conceptual Design
The best opportunity to influence project life cycle economics starts with the feasibility studies, development concept selection and continues through to Front End Engineering Design (FEED) and Detailed Design Engineering (DDE) stages.
It is during these phases that we provide support to our clients to explore, identify, assess, and rank feasible options, with the objective of selecting the optimum development strategy to maximize eventual recovery and optimize economic performance over the life of the field.
With our partner Impetus Energy specializing in subsea facilities and pipeline engineering; our consulting team covers the overall technical expertise range and capability bringing the added benefit of integrated thinking.
As a third-party consultant company, IPS often involved in the following process of feasibility studies and concept development, as a minimum:
Functional studies, e.g., process and equipment adequacy check, etc.
Integrated technical and project management
Design of appraisal program
Conceptual and feasibility engineering
Peer review and technical audits
Reserves certification and evaluation for project financing
As part of the appraisal program, Concept Select Workshop are often performed, with decision criteria and project drivers/weights designed specific to the project objective and requirement. Typical project drivers adopted to evaluate all concept options are as follows: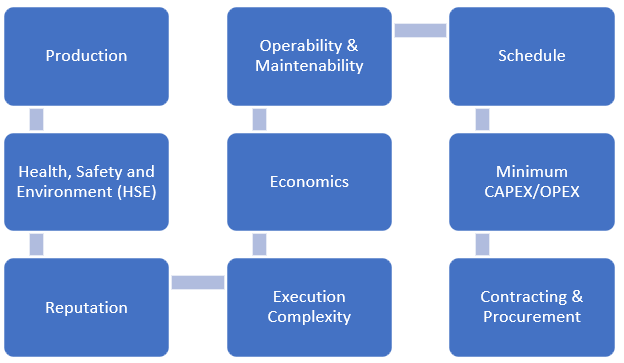 Front End Engineering Design (FEED), and Engineering, Procurement, Construction, Installation & Commissioning (EPCIC/EPC)
Following through from the Conceptual Design phase, our team of experienced personnel continues to provide support to our client especially in specific discipline and specialized studies.
What is Value Engineering?
Value Engineering is the systematic application of function-oriented techniques by multidiscipline team to identify the function of product/service, establishes the value of function, and provide improvement or alternatives without sacrificing the objective of function through creative thinking and brainstorming techniques.
Alternatively Value Engineering is also referred to as Value Analysis, Value Management or Value Planning.
The objective is to increase the value of products/service, satisfying the product/service performance at the lowest possible cost. The value of the function is defined as Follows:
Value = Function / Cost
Function: A measure of the performance capabilities of the product, service, or project.
Cost Resources required to achieve the intended function. This can include materials, machineries, consumables, time, etc. that are required to achieve the functional specifications.
It is seen that project value increases when; either the function is increased, the cost is decreased or both. Alternatively, the function and cost could both be either increased or decreased,
Value engineering consist of 3 main phase namely:
Pre-Study
VE Team Study (Workshop process)
Post Study
The pre-study phase starts with:
Data gathering
Planning the duration of study
Team Selection
At this stage VE facilitator will prepare the Terms of References (TOR) based on the Project Specification and will be distributed to all team members
VE Team study will be conducted in workshop environment guided by facilitator. This workshop will consist of 6 main phases as follow:
Information Phase

VE Team seek information and conduct data mining to understand project objective and existence. Information such as:

Project documents,
Data, concepts,
Project scope, etc.

Project targets and priorities are being set and agreed

Functional Analysis Phase

This step is the key for value analysis determine the functions of the project serves
Project objective are broken down into primary and secondary functions. These functions are further linked into a diagram, namely FAST diagram, to depict overall project functions.
Team members will identify the function of the system/equipment and agree on the function to be studies

Creative Phase

This phase presents the generation of alternatives/ improvement ideas to achieve or perform similar functions through brainstorming exercise.
In this phase, there is no judgment or evaluating ideas
The listed ideas will be carry on n the next phase of VE workshop

Evaluation Phase

This phase will be evaluate the ideas listed from the previous phase and pertinent ideas will be selected and bring to next phase for development.

Development Phase

Ideas are further refined to select and prepared the 'best' alternative (s) for value improvement.
This may include work to develop and refine promising ideas into practical and optimum solutions. Once the risk –reward profile of each idea is itemized, ideas are shortlisted for worth implementation into the project.

Presentation /Close out

Responsible parties will presents the findings from the VE session to the Project Management Team, who will determine, which findings will be implemented
Facilitator will prepare the final report and distribute to all participants/parties for review and action items implementations.


What is Manning Level Study?
For any new facility, operation and maintaining the equipment throughout the lifecycle will require a certain amount of manpower, knowing this early on the design stage provides a benefit for the long-term planning of any facility.
Manning level study is an analysis done an operated facility to determine the appropriate number of personnel that it needs to function effectively and maintained longevity as intended. The 'appropriate' number of personnel in this sense can be consider for "How Much People Should We Hire" as well as "How Much People to be Placed at One Time/Shift"
Why Do Manning Level Study?